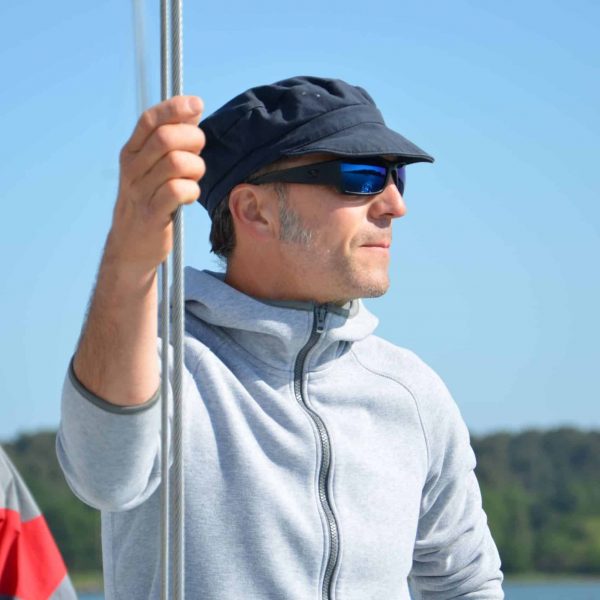 In Southern Brittany, in Morbihan, Pierre LE DIBERDER, professional skipper, state graduate, with more than 20 years' experience, can offer you either initiation sessions or courses to improve your sailing.
The sea allows me to escape. It is rich in colours and contrasts. I was lucky to have parents who helped me discover their passion for the sea. When I was very young, the boat was my second home, the sea my garden. With the family sailboat, we sailed the Brittany coastline, until I was old enough to sail alone in full autonomy. I remember very well the satisfaction of navigating a small boat alone.
"Now sailing rhymes with speed and performance."
As a teenager and young adult, my life as a sailor was intense. I have participated in many regattas. I have taken part in Championships all my life. I also discovered offshore navigation with beautiful trips to Scotland, Ireland, the North Sea but also, during a Transatlantic cruise to the Canaries, Cape Verde and the West Indies.
"As an adult, I still have this passion for sailboats and the sea!"
I have worked in the field of ocean racing – preparing sailboats, mono-hulls and multi-hulls, for the Vendée Globe and the Jules Verne Trophy, and so I satisfied my curiosity and my technical knowledge was fine-tuned. I later moved to the mountains. I worked on the construction of the Solar Impulse, the solar energy plane conceived and designed by Bertrand Piccard and André Borschberg. But sailing remaining a necessity, I went back to Brittany, I trained "Plaisance" marine maintenance workers within AFPA.
In 2018, back from a trip to the Scilly Isles, I fell in love with Toani, a fast and efficient cruising sailboat. Two months later I bought it. The same year, I passed two diplomas at the ENVSN of Quiberon, to become a skipper of a cruising school.
"I made my dream came true !"